Theodor Nymark
SSOP1: The Picturesque Beast,
2018-2021 (37. minutes)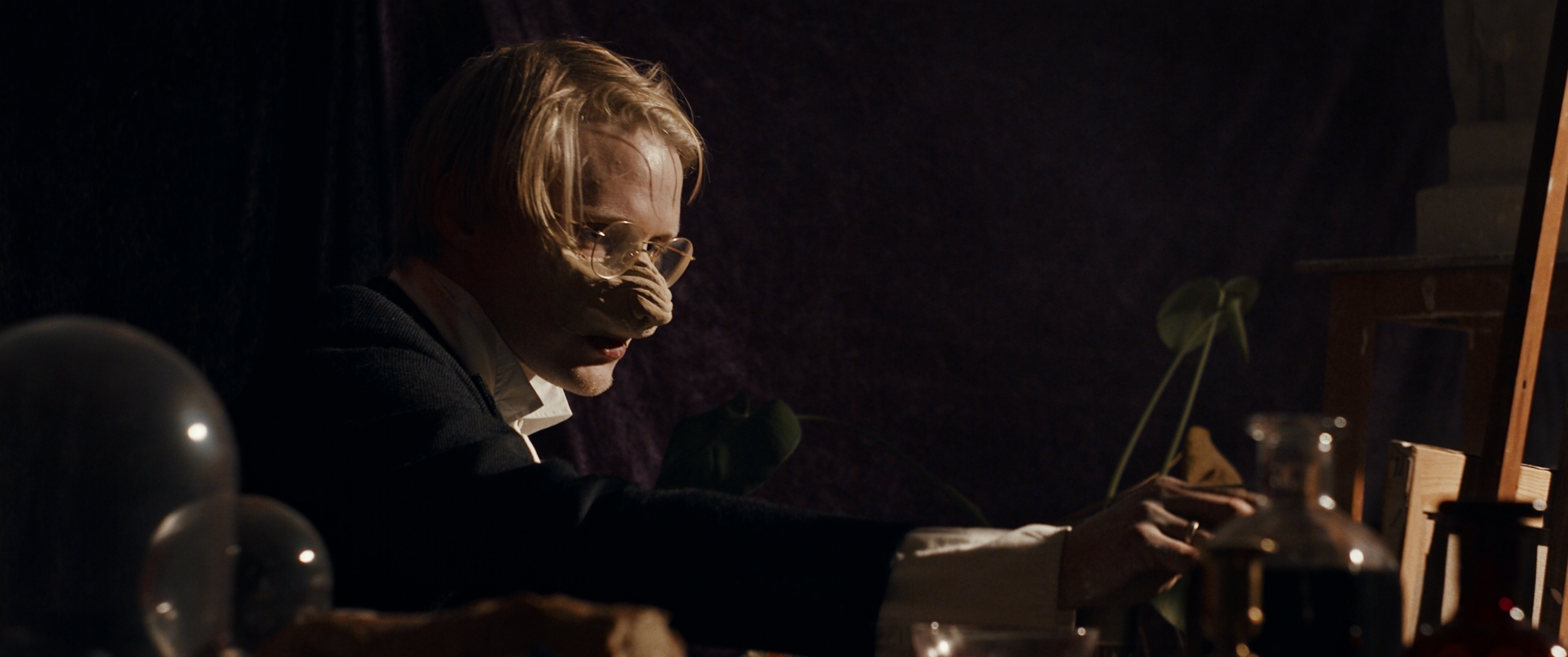 Synopsis

The Picturesque Beast is a multi-narrative film that follows an anthropomorphic wolf-like figure whose purpose is to capture the sublime nature. Set in two parallel worlds, the early Danish Golden Age (romantic era) and in a not so distant hyper-technological future.

In the story, we meet the young painter Christopher FenDweller - loosely based on both the Fenriswolf and the Golden Age painter C.W Eckersberg - working in his studio at the art academy at Charlottenborg. At the studio, he is frustrated by the lack of natural content in his paintings and decides to go on a study trip to the island of Møn to explore and encapsulate the picturesque nature.

He travels by both ship and carriage to the island and upon arrival, he stays at the Liselund Old Palace and thus begins his studies of the picturesque surroundings. After some time we meet the seeres - based on the mother of the Fenriswolf, the giantess Angrboda - who enchants the protagonist through a ritual using his discarded silk scarf. During the enchantment, FenDweller faints frantically and is then after forced down towards the undomesticated forest area in which he ends at the beach of the chalk cliff of Møn and begins the gruelling disoriented processing of the surrounding raw materials such as stone, clay, chalk, seaweed and wood.

After a whole night's work he falls asleep from exhaustion and the next day three druids (Old Norse priests) appear at the beach as ordered by the seeres, then kidnaps and sacrifices FenDweller in a bog at Liselund castle, a sacrificial ritual to exemplify the protagonist's final devotion and decomposition, by and to nature.

In parallel with the primary chronological narrative, we follow the same wolf-like figure in different tableaux in which domestication and imitation of nature take place.
This includes among other: occupation in a Tesla car, 3D-scanning of a passage grave, miniature landscape modelling, bodybuilding, observations of a vertical indoor agricultural system as well as strolling around in a postmodernist nature park.



WRITTEN, DIRECTED AND PRODUCED BY

Theodor Nymark

STARRING

Theodor Nymark as Christopher Fen-Dweller

Lis Ericson as Angrboda or, the mother

Lasse Juhl as Gothi #1

Claes Juhl as Gothi #2

Lucas Amandus Nikolaisen - as Gothi #3

Emil Holtemann as man in garden

Amanda Sofie Juul Lorenzen - as woman in garden

Kristoffer Bech as saint peder

Joos Støvelbæk as the soul

Jens Høgsbro as the archeologist

VOICES

Julius Lagoutte

Anna Maria Helgadottir

Lasse Juhl

DIRECTOR OF PHOTOGRAPHY

Sophus Wolf

SOUNDDESIGN

Frej Volander Himmelstrup

MUSICAL SCORE

Theodor Nymark

EDITIOR

Josefine Svenningsen

CO-EDITOR

Theodor Nymark

COLORIST

Rune Felix Holm

COSTUME DESIGN

KLUBBEN - Linn Veronica Bonde Ljungar & Amanda Sofie Juul Lorenzen

ADDITIONAL COSTUMES

Theodor Nymark

MAKE-UP & HAIR

Aiko Ettrup Bille

SCENOGRAPHY

Theodor Nymark

PROP-MASTER

Theodor Nymark & Annette Nymark

GRAPHIC DESIGN

Simon Persson

TRANSLATOR

Julius Lagoutte

Una Gunnarsdottir

Theodor Nymark

CONSULTATION

Jens Høgsbro

Tanja Eskesen

Emil Holtemann

Michael Bank Christoffersen

Christian Gamst Miller Harris

Ditte Johanne

John Skoog

Laila Svenningsen

Thank you to

Bo Feldvoss - Liselund slot

Fanefjord Skovpavillion

Filmhus Møn

Nextfood

Sabsay Gallery

Per Werge

Lars Kristensen & Silas Emmery - photographic department of the

Academy of Fine Art in Copenhagen

SPECIAL THANKS

Frej Volander, My mom and my beloved friends and family